Hey everyone! Today's fashion post is about different outfits you can wear to school for this upcoming school year,the fall of 2012!
In this video and post I'm going to be showing you three different looks you can imitate for three different styles. The styles are classy, high school hipster, and casual.
I also have links to either the places I got each item, of if I couldn't find it anymore, an item that's similar. I look for good quality and especially good prices before I link anything so they will be more helpful to you!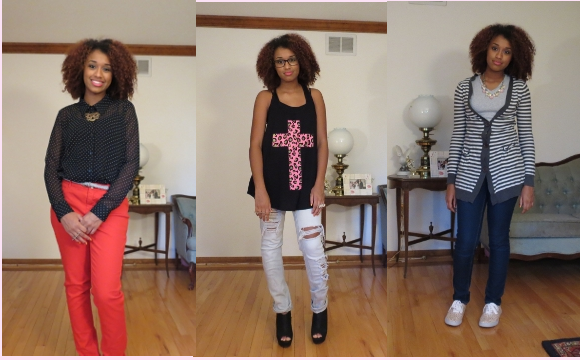 Here are more photos and where each item is from:

If you cannot view the above video, click here for the tutorial on this look: Back To School Fashion Look Book
Subscribe to my Fashion and Beauty YouTube Channel!
Outfit #1: Classy and Chic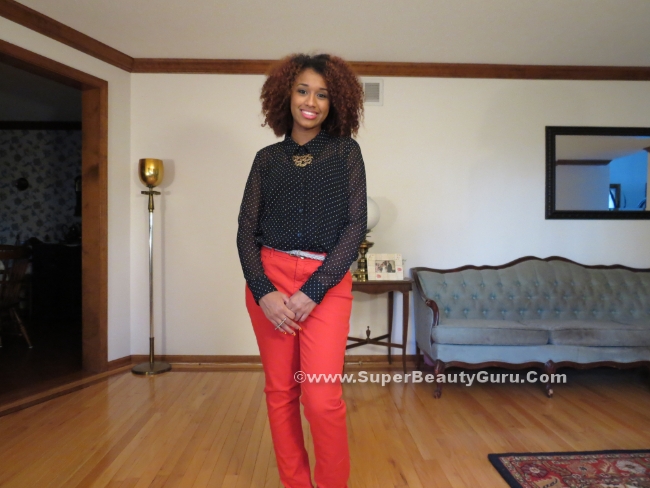 This outfit is classy and chic. The tailored top goes well with the straight-leg red pants to make a cohesive classy looking outfit. The shirt is a must have. Right now sheer button-up tops are all the rage, and so are patterns, so putting them together is one way to rock both trends at the same time!
Shirt: Forever 21 (similar)
Pants: Forever 21 (similar)
Necklace: Claire's (similar)
Belt: Forever 21 (similar)
Cross Ring: (similar)
Sandals: Macy's (similar)
Outfit #2: High School Hipster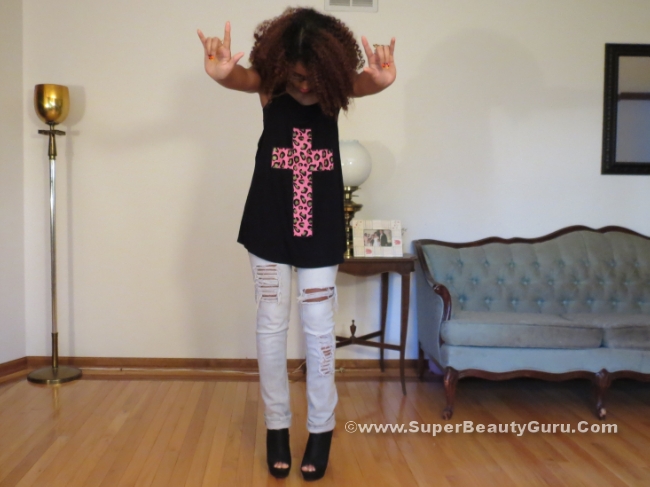 This outfit is inspired by the hipster style. I got this flowy tank top and instantly thought about what I was going to pair it with. These jeans were cute, but they became even cuter when I ripped them (tutorial coming soon) and I absolutely love the shoes! I chose to break up the darkness of the shoes and top by adding a lighter color in between, so if you have a dark top like this one you might want to consider doing the same. This outfit is fun and super tumblr-hipster-esque.
Shirt: Birlington Coat Factory (Similarish) (another cute cross shirt)
Jeans: idk? (similar)
Cardigan: Macy's (Similar)
Shoes: Burlington Coat Factory (similar)
Daisy Ring: Forever 21 (similar)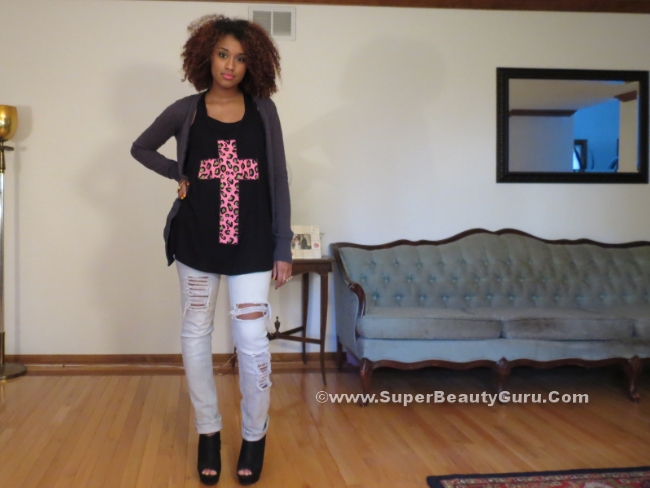 Outfit #3: Casual and Laid Back
This outfit is really laid-back and chill. It's perfect for one of those Fridays when you don't feel like waking up so you roll out of bed just in time to do the most necessary morning tasks, but don't have enough time to pick out an elaborate outfit. Just throw on a V-neck shirt, a cardigan that has the same color scheme, but some sort of pattern, some skinny jeans and a pair of cute sneakers. For an added bonus, in this outfit I mixed prints, which is super in right now. I mixed the stripes with floral print that's in the necklace and the shoes. How cute are those shoes by the way?!
Shirt: Walmart (similar)
Cardigan: idk (similar)
Jeans: Forever 21
Necklace: Claire's (similar)
Floral Sneakers: Target (similar)
This video that I made was a collab with Victoria, one of my YouTube friends, and here are her back to school looks:
Fashion Gallery
POST A BUNCH OF MORE PHOTOS OF THE OUTFIT HERE WITH SEO'D FILENAMES
Subscribe by email if you like my style
Fashion posts you might like:
–Back to school 2012 Fashion Essentials
–Fringe Shirt Outfit Of The Day
–How To Turn Jeans Into Distressed Shorts Tutorial
–How to Make Galaxy Shorts DIY
Video Transcribed:
Hey guys! Today I'm doing a back to school fashion video, which is also a collab with my youtube friend, Victoria from oheytoribeauty. We both put together 3 outfits that are perfect for school. Here are my three outfits, and stay tuned until the end of the video to see Victoria's outfits! Don't forget to watch her video, which is linked is in the description box below!
My first outfit is very classy, and this is what I'm going to wear on the second day of school. It just feels like a second day of school outfit to me, I'm not sure why though. The top is sheer, so you won't get hot wearing it while it's still summer, but my school is usually too cold to wear shorts, so I picked these red skinny pants.
This sheer black polka dotted blouse is from forever 21, and is currently my favorite shirt of all time. These red straight-leg pants are also from Forever 21. They go really well with the black and white polka dotted pattern, and they're a great alternative to always wearing skinny jeans.
This braided belt, also from Forever 21, breaks up the outfit, and also keeps my pants up! I got this necklace from Claire's, and it fits perfectly under my collar. Isn't that such a great collar by the way?
Here's another Forever 21 piece. Just something gold to match.
This is my everyday makeup, and there's a tutorial coming soon!
I chose these gladiator sandals because they go well with the belt, and because they help lighten up the outfit, since it is still summer. They also have a nice little two-inch heel to them.
Next outfit: Highschool Hipster! This outfit is dedicated to my edgier girls out there. Sometimes I'm in the mood for something a little less classy and tailored, and this outfit does just the trick! I get the new clothes back-to-school feeling when I wear this outfit, and I know you all love the feeling of wearing new clothes for the first time! Am I right? I'm right! Oh and I ripped the jeans myself!
Okay so this shirt is from Burlington Coat Factory, and it's an oversized tank top with a leopard printed cross in the center. There's some gold glitter on there too! But since not all schools allow tank tops, I got your back! Just throw on a cardigan or unstructured blazer on top and now it's allowed.
I chose a gray one, but you could also use a taupe or tan color. Another way you could wear this shirt is by tucking in just the front of the shirt. This is a good tip for shorter girls who would be drowning in this oversized tank.
These black wedges are also from Burlington Coat Factory, and I love them! I normally don't like peep-toed shoes that much, but these are the exception! They are pretty tall, about 6 inches, so if you're not used to high wedges, don't wear them to school!
On my fingers, I have the cross ring again, and a two-fingered daisy ring, also from Forever 21. Here are my hipster glasses, which I wear all the time since I can't really see without them, and yes they are prescription!
But, you can always wear different fun glasses with this outfit like these heart-shaped shades from my friend. Which pair do you like better?
This next outfit is casual and laid back, and incorporates the trendy mixing of patterns. It's great for when you're in a pinch for time.
A striped cardigan can easily jazz up a plain v-neck top, and I chose them in the same color. I mixed the stripes with floral print in my necklace because I love that pattern combination! The skinny jeans are from Forever 21, and they have a light material, making them great for warmer weather.
I'm wearing my every day makeup, and here I add my glasses because if you go to school, you might as well be able to see so you can learn something! Continuing with the floral print from the necklace, I have on these adorable floral sneakers from Target that I love! They're perfect for a laid back look and easy to walk around in all day.
I hope you enjoyed my back to school lookbook, and if you want to see more photos, I'll have them on my blog, which is linked below! Don't forget to check out Victoria's outfits! These are her three picks, one of which also mixes patterns and we didn't even plan that! I love her style, and if you do too, don't forget to subscribe to her channel! You can click this annotation to see her back to school video.
Thanks again for watching, and I'll see you in my next video. Bye!!

Thanks for stopping by! Please subscribe to my blog if you like it!
xoxo Amber Camille Johnson from The Super Beauty Guru <3