Hey everyone! Today I'm going to show you how to create Good Friday Nails.
This look is great for wearing on Good Friday, the Friday before Easter, or any other day you want to remember Jesus's crucifixion. I painted the crucifixion site where he was hung on the cross, with the two other crosses that were used for the two criminals killed with him. If you are Christian or Catholic, you will know what I'm talking about.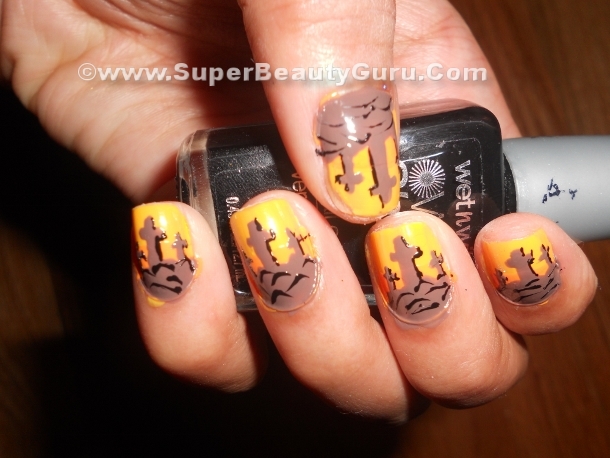 Here are all the Steps and Products I used:
If you cannot view the above video, click here for the tutorial on this look: Good Friday Nail Tutorial Video: How To Paint The Cross
Subscribe to my Fashion and Beauty YouTube Channel!
Steps
1) Apply a base coat to protect your nails.

2) Paint your nails yellow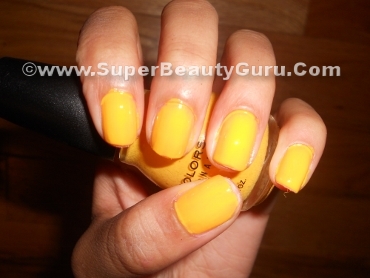 3) Mix your yellow nailpolish with an orange to get a yellowish orange color. Paint tat on the base of your nails, making the top part rounded. This is going to be the sunset background.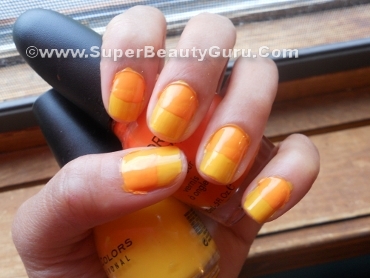 4) Using a brown polish, create a rocky hill, below the sunset.
5) Paint a big cross in the middle, on top of the hill, and two smaller crosses on either side. The big one represents the cross Jesus died on, and the two smaller ones represent the crosses of the two criminals who died with him.
6) Using a black nail polish, and the thinnest nail art brush you have, outline the right side of the crosses to add a shadow for dimension. add some lines to make the hill look rocky as well.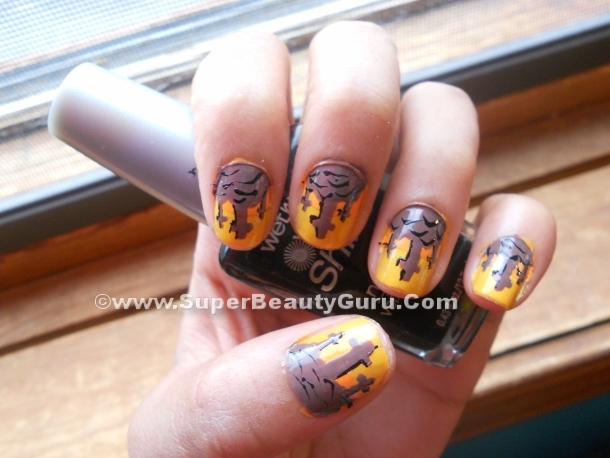 7) Add a top coat to protect your nail design, and you're done!
Products Used
-Claire's Top Coat – Clear
-Sinful Color's Yellow – Pull Over
-Sephora by OPI Orange – Hi Def
-E.L.F. Brown – Smoky Brown
-Wet n' Wild Black – Black Creme
Nail Gallery
I hope you all try out this Good Friday nail tutorial, and if it's too late, you could always wear this on Easter instead.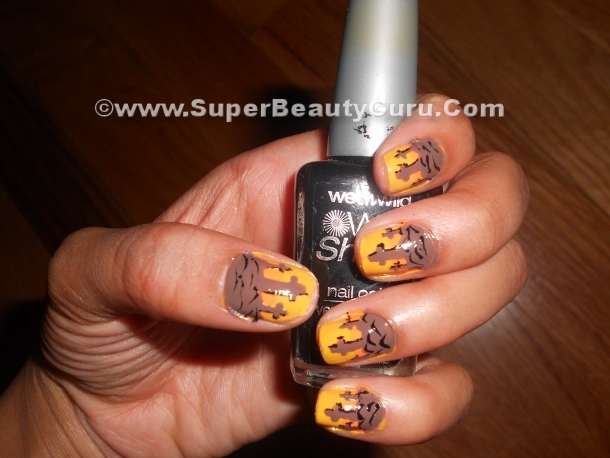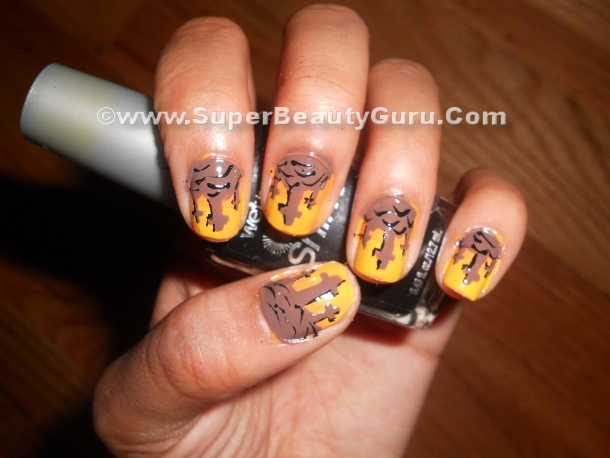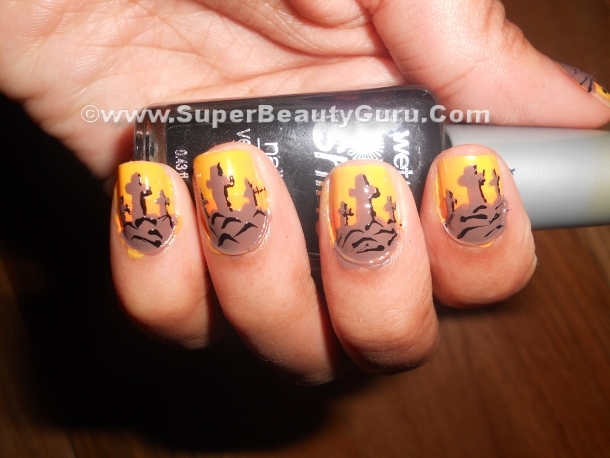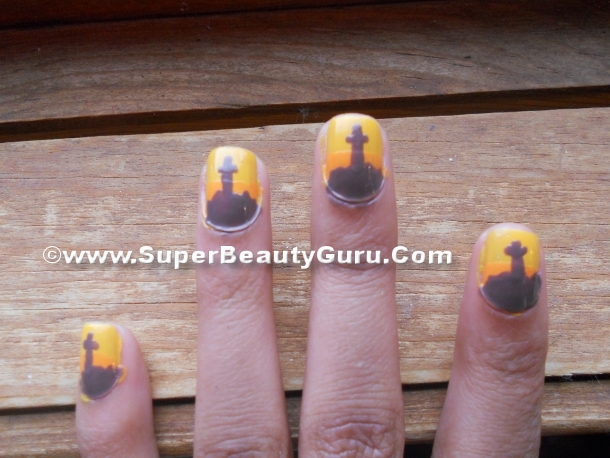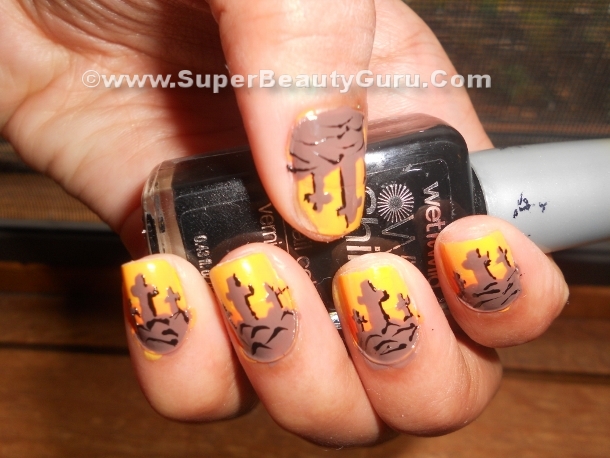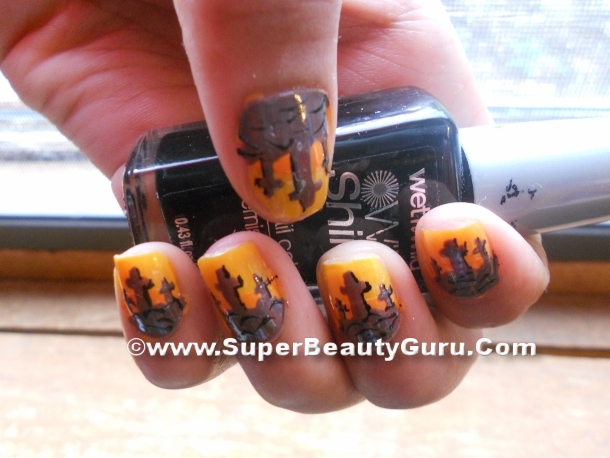 Video Transcribed:
Happy Good Friday Everyone!
Today I'm bringing you a nail tutorial for "Good Friday," which is a religious holiday.
For those of you who don't know what Good Friday is, it's the Friday before Easter, celebrated to remember Jesus's death on the cross.
I painted the crucifixion site, so keep watching to see how I did it.
First start out with a base coat to protect your nails.
Next add on a coat of yellow nailpolish. The one I used only needed one coat, but if you need to, you can add two.
Now mix your yellow with a bit of orange to create a yellowish orange nail color.
Paint this color on the bottom half of your nails with a curved top to create a sunset background.
Using a brown color, paint over the orange/yellow color, making a hill with a rocky top. Make sure you don't cover all of the orange.
This is going to be the hill the cross was on.
Now paint a big cross on top of the hill, this will represent the cross that Jesus died on.
Try your best to make the top and sides as square as possible, it looks a lot better that way.
Now paint two smaller crosses on the side of the big one. These represent the two people who died with him.
Next get a black nailpolish and the thinnest nail art brush you can find, and shade the right sides of the crosses to create a shadow for demention.
Also add some curved lines to the hill to add demention there too, and to show that it's rocky.
Although that step takes so much time, it makes the manicure look a lot better, so I would recommend doing that.
After it dries, add a top coat as always!
Here's the finished look!
This manicure took me about an hour and a half to do, but it was worth it.
I hope all of you guys liked this video, and have a great Good Friday and Easter.
Thanks for watching, and I'll see you in my next video, bye!
Thanks for stopping by! Please subscribe to my blog if you like it!xoxo Amber C Johnson from Super Beauty Guru <3