Hi, my name is Camille Johnson, and welcome to my blog! You're probably new here, so let me give you the run-down!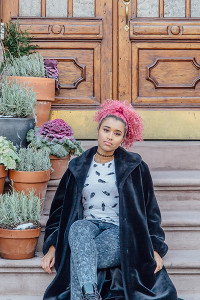 What is This Blog about?
This blog was made to educate, empower, and inspire you to be the best version of yourself. I'm here to help my readers live the happy, healthy life that we all desire. I started this blog because I wanted a place to present my "offbeat" view on life; I needed somewhere to express my creativity and a place to share the knowledge I have on various topics from lifestyle to beauty. I am known for my colourful, always changing, curly hair, as well as my hair tutorials that I post on my YouTube channel.
On this blog you can find content on beauty, hair, makeup, health, food, fashion, and lifestyle topics. I also run a YouTube Channel where I post videos on the same variety of topics. I love photography, and make monthly photo diaries where I post my best pics of the month. I am very active on Instagram for this same reason, and very active on Twitter because it's a great way to talk to you guys!
Who Am I?
I'm 20 years old, and currently living in New York City. I have been blogging since November 22, 2011 and YouTube-ing since November 7th 2010. I was born in Gaithersburg, Maryland, then 9 year later moved to Windsor, Connecticut with the fam. My family still lives there, but in 2014 I went to Kingston, Rhode Island to attend University of Rhode Island.  I left in 2016 to impulsively move to New York City by myself to chase my dream and be a full-time online content creator, which is what I currently do!
Stay Updated! Best Way To Follow My Content
YouTube Channel | Vlog Channel | Instagram | Facebook | Twitter | Fashion Tumblr | Personal Tumblr | Pinterest |
To follow my blog, you can:
Subscribe by email.
Follow my blog on BlogLovin', where you can save all of your favourite blogs for viewing!
Follow me on the above social media sites, especially Facebook, to get links to new posts!
How to Reach Me
Check out my Contact Me page!