Fading or getting rid of semi-permanent hair dye, in this case green hair dye, can be quite the challenge. I've experimented with nearly all the methods for removing semi-permanent and demi-permanent hair dyes of various colours and brands, and this is the best way I've found it can be done.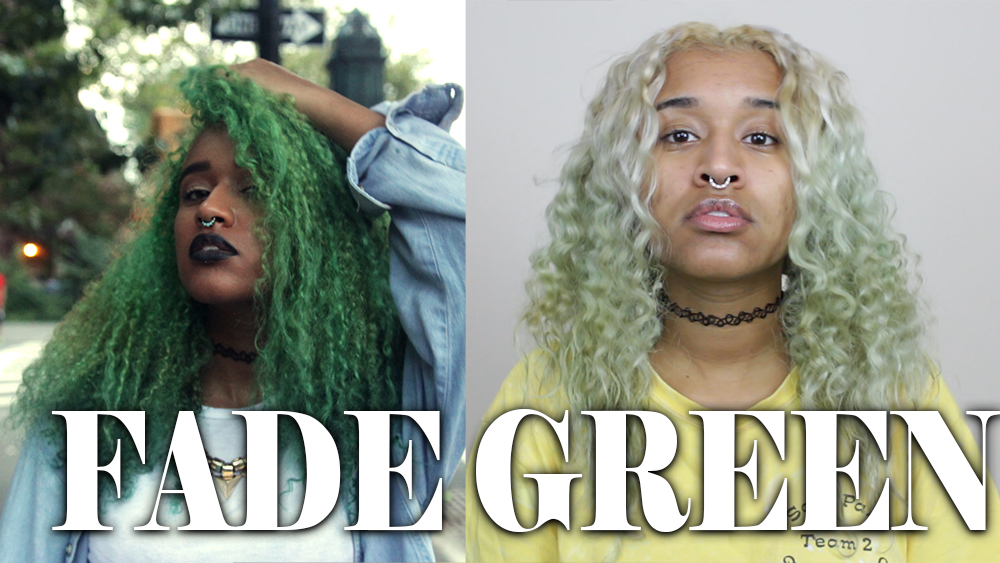 In this video I posted on my YouTube channel, I show you how I faded out the green hair dye I had in order to get it light enough to change to my next hair colour!
Disclaimer!! My hair looks very wavy and not curly in the photo of my hair with the faded green because I had just taken it out of french braids (you will see if you watch the video) and it was still somewhat damp. My hair did NOT lose its curl from this as you can see in my more recent videos and photos on Instagram!
How I faded out the Green Dye in my Hair
Here are all the steps that I used during the fading process for this particular hair colour.
Time – The first and most natural step in fading out any hair colour is using time. Time passes wether you like it or not, so there's no stopping time from fading your hair colour. Fortunately, by the time you're tired of it and ready to move on to another colour, time will have worked in your favour and made the fading process all that much easier!
Salerm Color Reverse Treatment – This is the best method I've found so far to effectively and pretty quickly strip out any semi-permanent or demi-permanent hair dye. The treatment is called Salerm Color Reverse and is a two-step process. All you have to do is take an equal ratio of the two solutions, mix them together, and apply it to your hair. I let it sit for 20 minutes, shampoo it out, condition my hair, then let it fully dry and repeat the process the day after. This gives my hair time to rest in between treatments.
Light Bleach Bath – A last-resort way to fade hair dye (well, last to just bleaching through it), is by using a bleach bath. A bleach bath is when you combine shampoo with hair bleach. Some people mix it with just the powder and others mix with the solution of bleach powder and developer- I'm not sure which way is more effective or damaging, so that's definitely something to test in the future! You then spread this mixture on the are that you'd like to strip colour from, and it will remove the colour more gently than just bleaching through it. This is a lot less damaging than bleaching, and is a great step to try when there's still that stubborn green clinging on to your hair after two rounds of the Salerm Color Reverse that just needs to go.
Tips
Here are some tips for anyone who wants to fade green or any other semi-permanent hair dye colour from their hair.
That's all you need to do to remove green dye, or any other semi-permanent hair dye from your lovely locks! Comment down below what your experience with stripping hair colour has been like, the products you've tried, and what works best for you. I'd love to know what your thoughts are and share experiences and I'm always looking for newer and better methods for hair colouring and stripping!
If you liked this post, please follow my blog via Bloglovin (or other methods) so you don't miss any posts! I'm also very active on these social media:
Beauty YouTube Channel | Vlog YouTube Channel | Instagram | Twitter | Fashion/Beauty Tumblr | Personal Tumblr | Facebook Page| Pinterest
Thanks, and I love you!
xoxo Camille