Hey everyone! I have been loving the galaxy clothing trend I've seen lately online (and by lately I mean like 10 times a day for the past year) and I really want to try it out for myself. One of the best ways to wear this galaxy trend is on your shorts. I love the print on leggings, shorts, shirts, shoes (the Jeffery Campbel Galaxy Print Lita's are to die for!) and I love the galaxy print nail design!
Here are a few pictures of the trend that I am talking about (note that these are NOT my shorts, I found these pictures on tumblr):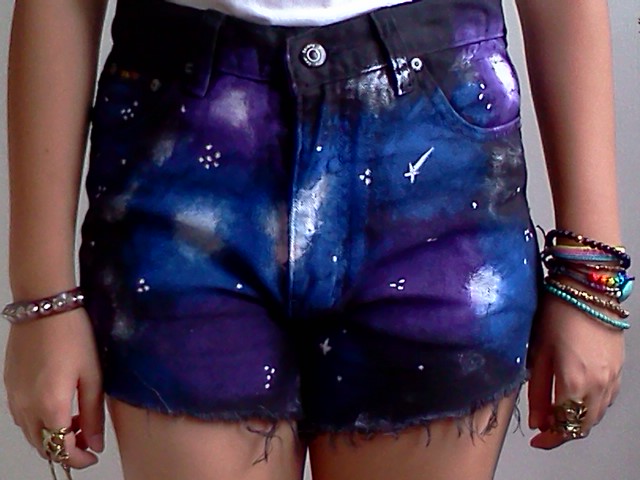 (source)
(source)
Here's a tutorial on how to turn a pair of regular black denim shorts into a pair of these awesome galaxy printed ones!
Steps
1 Get a pair of black or dark denim shorts. If you only have a pair of jeans but would still like to achieve this look, you can use those, or cut your jeans into a distressed pair of shorts. I have a tutorial on how to do that, so click the linked text to see that tutorial. The ideal color of the denim you should use is black, but a very very dark wash jean would do. Also, if you don't have black, you can always dye your shorts black before you start. If you want to distress them, now is your chance!
2 Now you want to get some fabric paint and sponges to do this design. Get a couple blues, purples, and a white paint.
3 Use your sponge to sponge on the lightest blue you have. Now sponge this across the entire front, but leave gaps and kind of make the design go in a horizontal pattern. Now repeat with the darker blue and purples.
4 With your white, sponge a bit into different sized blobs, but keep them small. These will be solar systems.
5 Use your white again, but this time with a tool like a ball-point pen, to make tiny dots that will be stars. You can cluster them around the white blobs to make it seem more like a solar system, and scatter some in random places. Use the tip of the pen to make small dots. Also vary the size a bit. To make larger dots, which will be planets, flip over the pen and use the back dipped in white paint. You can also make flattened out ovals to be a solar system if you want, but use a sponge for that.
6 Let your shorts dry for at least a day, and now you're done! Wear them with style girl! And if you try this tutorial out, post a comment down below telling me how well they turned out! Of you can tweet me a picture here!
I hope you all enjoyed and learned from this tutorial!