Hello everyone! So I painted my nails around Christmas time, and never got around to posting it on my blog! I would have filmed a nail tutorial, but my video camera doesn't focus up-close, so I'm out of luck there

However, I can still show you all photos of my nails and describe all the steps. These cute snowmen are easy to recreate on your nails, and really adorable to wear! Right now, there is no snow where I live (which I am thankful for!) but a lot of other places have snow right now, so you can use this look to be festive in the snowy months!
Steps:
1) Apply a base coat to protect your nails.
2) Paint all of your nails using a pale shimmery blue. The large shimmer pieces in my nail polish give the nail the illusion of falling snow in the background. This makes it look like it's snowing behind the snowmen.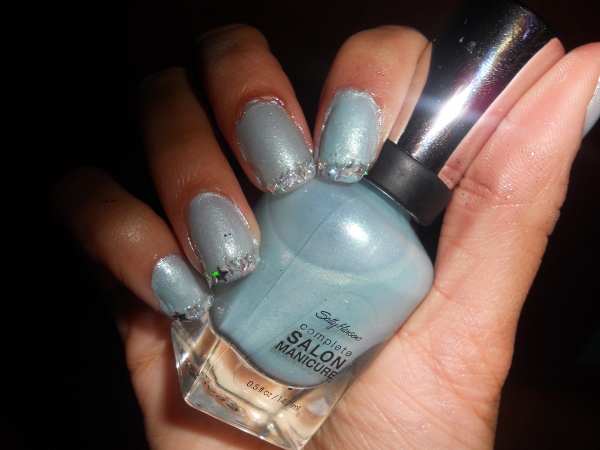 3) Using an opaque white, make two circles, one on top of  the other, the lowest one being the bigger circle.  (If you are creating an accent finger, you would only make one circle on your ring finger, because on this finger I made the snowman up close. You would still make two circles on the other nails.) You can use a dotting tool, nail pen, nail marker, or a thin-brush nail polish to make the circles, but I applied the white straight from the normal bottle of nail polish it came in. The brush was small enough, and I have good control over it. Make sure to leave space at the top of the nail because this is where the hat will go.
4) Using a thin-brush black nail polish, outline the two circles forming the snowman silhouette. Now use the same nail polish to paint on the arms and hat. I had a black with a thin brush on one side and a pen on the other, so I used that to dot on the smile and buttons. Try to make sure the dots you make on the face aren't too big, or else it will get messy. Make two more dots of the same size for the eyes. You might want to use a dotting tool for this step, I would if I were to redo this nail look.
5) To make the carrot nose, I dipped a toothpick into an orange nail polish and made a dot in the center of it's face. While the dot was still wet I used the tip of the toothpick to slightly tug the color to one side to make the carrot pointed shape. A toothpick is great for this step because you need a precise point to do the nose.
6) This step is optional, but for extra glitter, I added shiny silver stars to the sides of the snowmen. If you don't have anything like this you can skip this step, or use silver rhinestones.
7) Once your design is done, wait 20 minutes for it to dry, then seal it in with your favorite top coat. This will keep the stars from falling off, make the nail more even and shiny, and keep your design from chipping.
Products Used:
-Sally Hansen Continuous Treatment Base and Top Coat – Clear
-Sally Hansen Complete Salon Manicure – Dive Deeper
-OPI Nail Lacquer – Funny Bunny
-Art Deco Nail Striper – Black
-Wet n' Wild Megalast Nail Color – Sunburst
-Silver Star Nail Accessories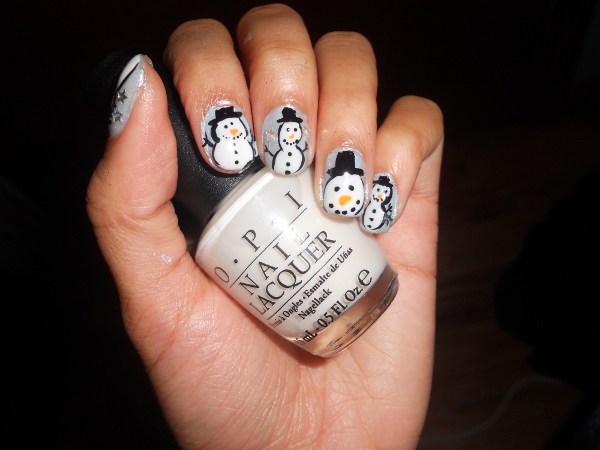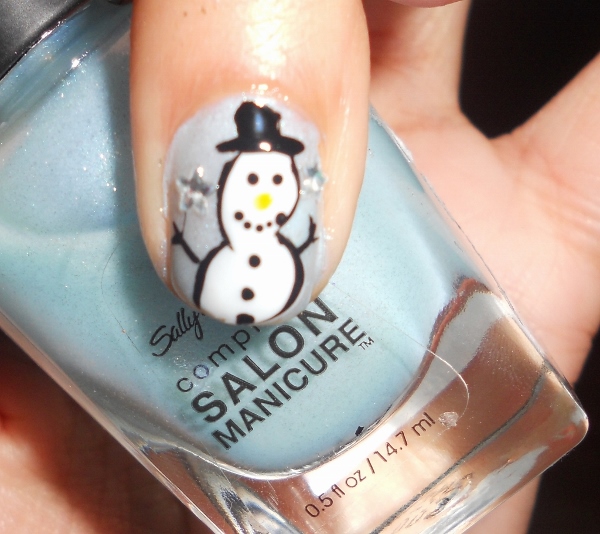 Thanks for stopping by! Please subscribe to my blog if you like it 
xoxo Amber C Johnson from Super Beauty Guru <3