Hey everyone! Today I'm going to show you how to create a Colorful Geometric Nail Design.
This is a super bright and colorful nail look that can jazz up any outfit. It's great to wear in the Spring or Summer when everyone loves wearing color, but It's also nice to wear in the winter when everything is dark and you want a pop of color on your nails. You can use a bunch of different nail polishes that you already own and put them together for this simple nail look.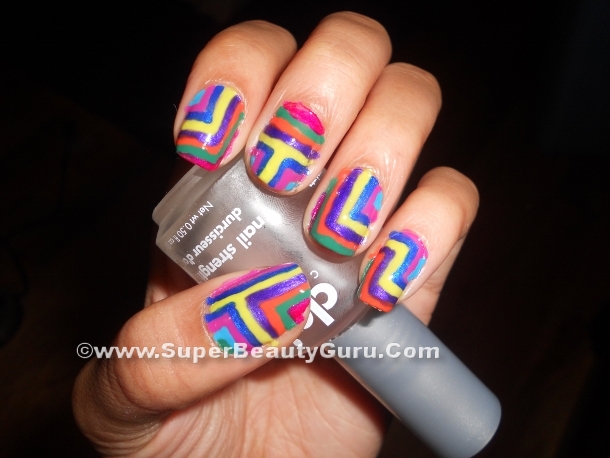 Here are all the Steps and Products I used:
EMBED YOUTUBE VIDEO HERE
If you cannot view the above video, click here for the tutorial on this look: Colorful Geometric Nail Design Tutorial
Subscribe to my Fashion and Beauty YouTube Channel!
Steps
1) Apply a base coat to protect your nails.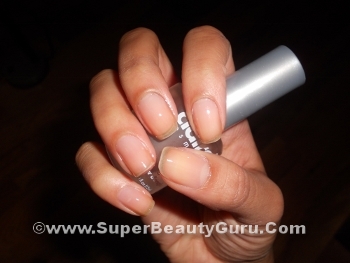 2) Using a thin nail art brush, paint on some L's T's and Z's with a bright neon color. I like bright yellow because it's in the middle of the design and it brightens the whole design up.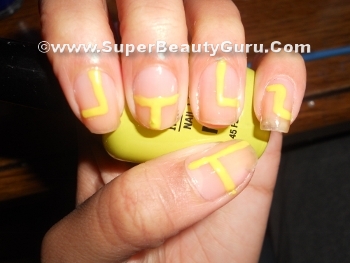 3) Use a contrasting color like purple to paint right next to the yellow lines and define them more.
4) Use another light color next to the purple and outline it again. Make sure all of your corners are sharp so the design doesn't come out looking sloppy.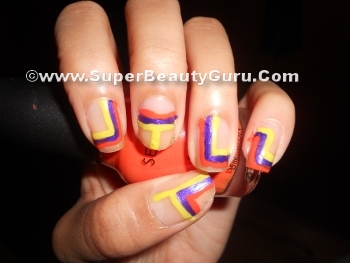 5) Do the same with a blue.
6)Use a green next to the orange.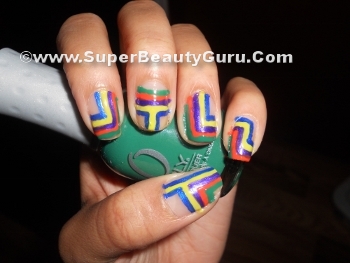 7) Add a light purple to tour nails.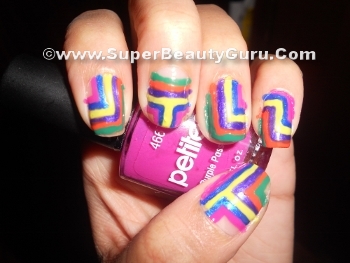 8) Add a bright pink. This one's matte, but you can use matte polishes because you're going to be covering everything with a shiny topcoat afterwards, so everything will end up being shiny.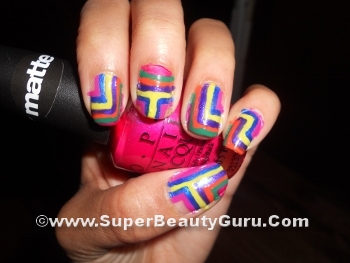 9) Get a lighter blue and fill in all the areas that need nail polish.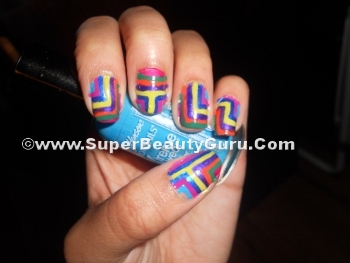 10) Add a top coat to seal everything in, and you're finished!
Products Used
-a whole bunch of colorful nail polish!
Nail Gallery
This design was simple and easy. As long as you use a whole bunch of pretty nail polish colors and make sure your corners are pointed, you will succeed with these nails. I like the mathematical geometric design and it looks really great on my nails, especially because the tips are squared off. I hope you liked the look. Enjoy the photo gallery!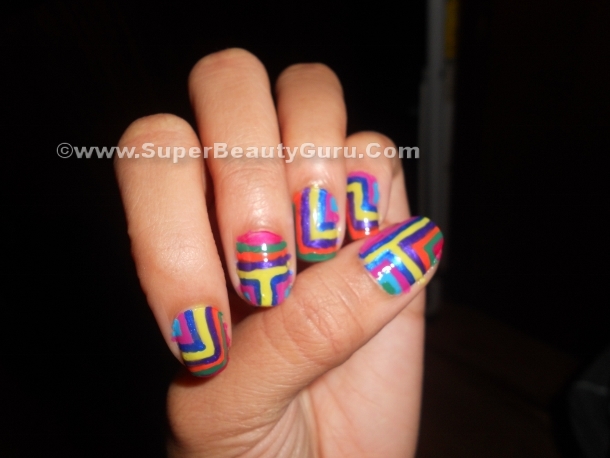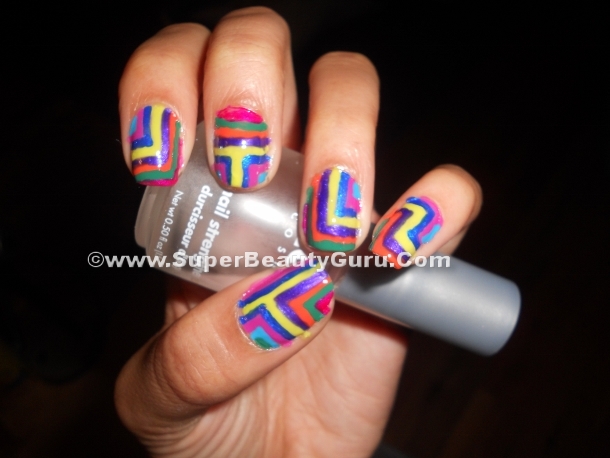 Video Transcribed:
Hey guys! Today I'm going to show you how to create this really cool geometric nail design. This is what you get when you combine bright nail polishes, a steady hand, and a lot of time. I love this design, and hope you do too!
First start out with a base coat as usual to protect your nails. Now get a bright yellow and paint on different shapes. Make some L's, some Z's, and some T's on different nails. Now Get a blue nail polish and do the same, next to the yellow. Try to make sure the corners are sharp so the design doesn't come out looking sloppy. The corners are actually the hardest past.
Do the same with a bright orange. I used a really thin nail brush and you can get those from a lot of places, but I recommend ebay. Continue the process with green and purple. I wanted to use this bright pink too but it was matte. If you have a matte polish with a cool color go ahead and use it because we will be adding a topcoat, so it will end up looking shiny like the other colors.
I filled in the rest of the space with this lighter blue, and that's all for color! Now just add a topcoat, and your design is finished! I think this came out really great, better than I expected. I didn't know how well this would turn out because it can be hard to make straight lines, but the only real issue was making the corners sharp.
If you end up trying out this design, please tweet me a pic, I love it when I get to see how your nails turn out! For a list of all the products used, check out my blog, which is linked below. Thanks for watching and I'll see you in my next video, BYE!

Thanks for stopping by! Please subscribe to my blog if you like it! xoxo Amber C Johnson from Super Beauty Guru <3