Hey everyone! Today I'm going to show you how to create how to turn jeans into distressed shorts.
I had a pair of bright yellow skinny jeans that looked great on me, but unfortunately, they had a stain on them on the pant leg. I tried everything to remove the stain, but it didn't budge, so instead of getting rid of the jeans, I decided to turn them into a pair of shorts. I decided to make them into a pair or distressed shorts because I love that look, and it's really fun to do.
If you have a pair of jeans that were like mine, stained lower down on the leg area, or perhaps yours fit well, except the leg doesn't go down far enough. If that is the case, don't get rid of them! Simple turn your long pants into short pants. You can do this with any type of pants, but only attempt to distress denim shorts. I'm sure there's a way to do that to other materials, but I don't know how to do that yet, so try it out with denim first.
Denim shorts look really great when it's distressed. Distressed shorts are basically shorts that have shaggey edges, rips, tears, fringe, or look worn out. Nowadays, tons of people buy shorts that look like this, or they do it to a pair of shorts/pants that they already own to get that worn look. I think this style is fabulous, and I love the outcome of my shorts!
I've been loving this look for such a long time, just check my Tumblr and you will see all the pairs of distressed denim shorts I have reblogged, it's crazy. I wish I could wear short shorts like these to school because they're so cute, and they definitely cover everything they need to, but sadly my school doesn't allow that so I'll just wear these during the summer or on weekends. In college I'll get to though. I hope they still fit when I get to college!
Here are all the Steps and Tools Used in this Tutorial:

If you cannot view the above video, click here for the tutorial on this look: How To Turn Jeans Into Distressed Jean Shorts Tutorial Video
Subscribe to my Fashion and Beauty YouTube Channel!
Tools Needed
-pair of jeans
-scissors that can cut through fabric
-utility knife or box cutter
-tack, needle, or pin
Photo Gallery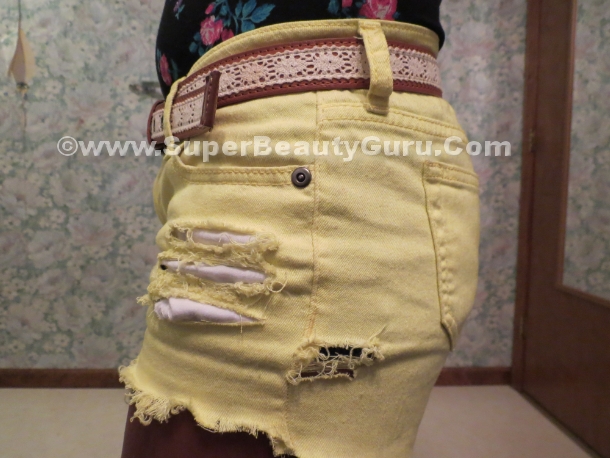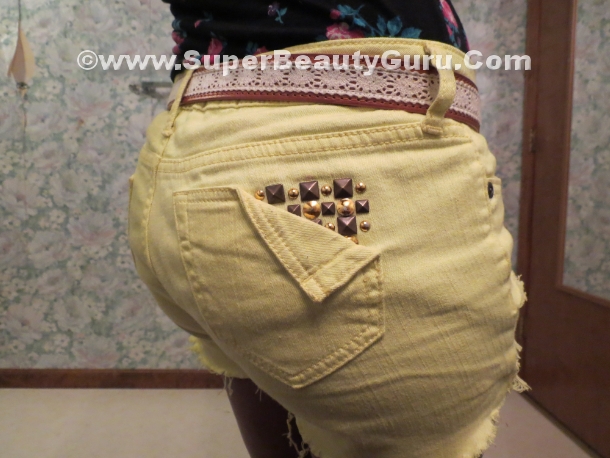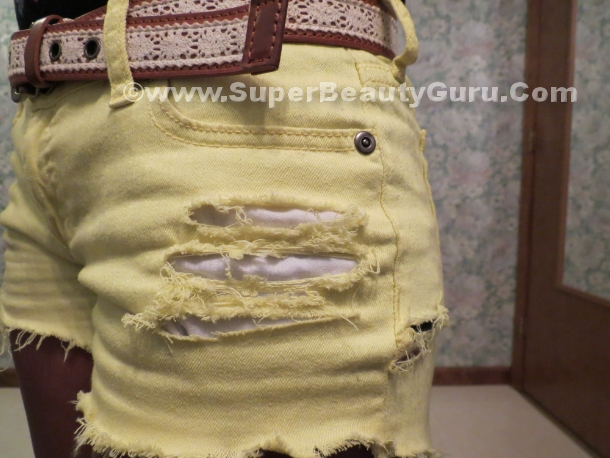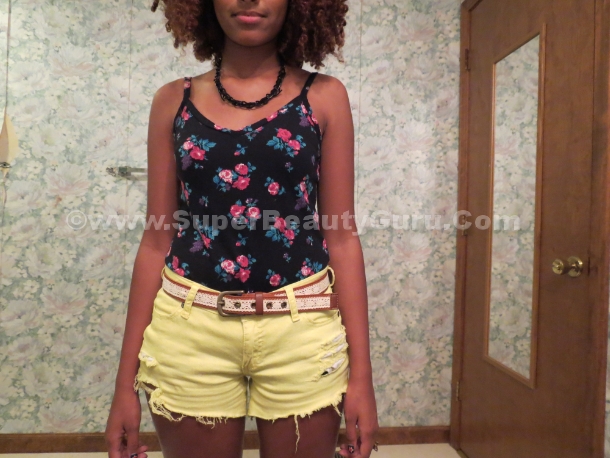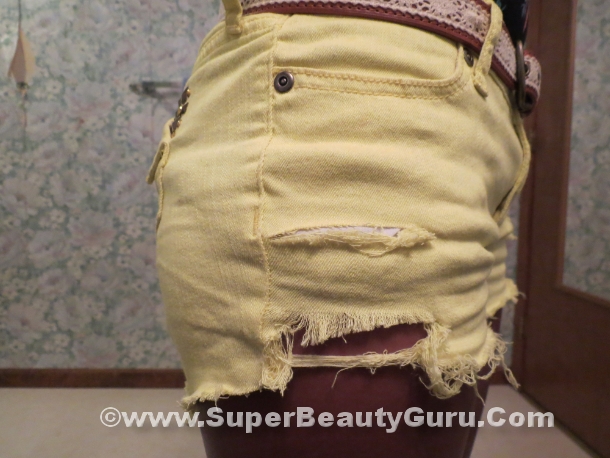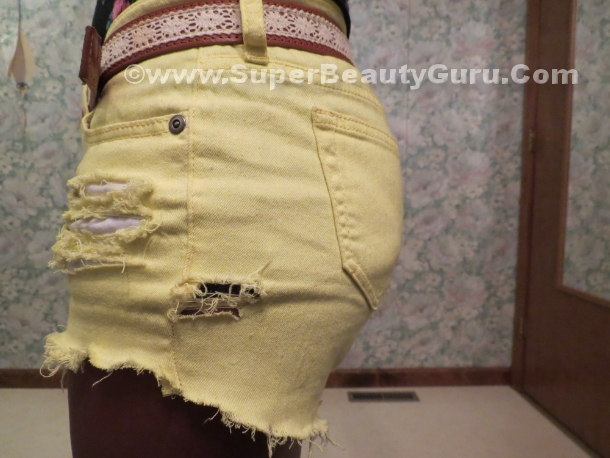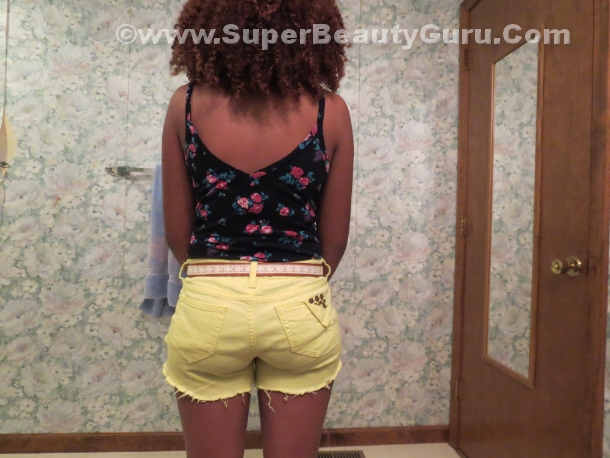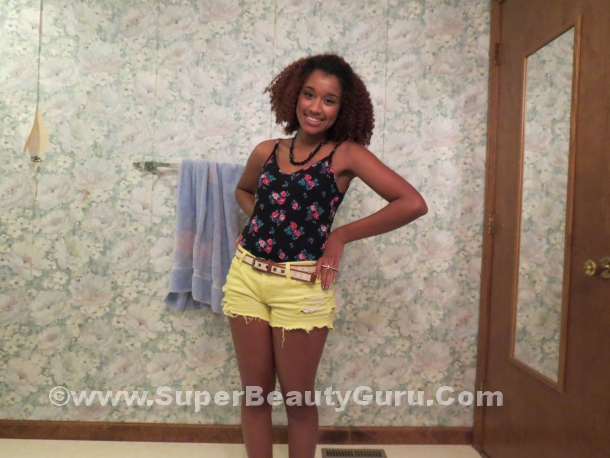 Video Transcribed:
Hey guys! Today I'm going to show you how to turn your jeans into a pair of distressed shorts.
This is what they looked like before, and here's what they look like after.
It's really easy to make these and I'm going to show you how!
First get a pair of jeans that fit around the waist area. I'm using these bright yellow jeans from JC penny. They fit well and have cute studs on the pocket. I chose these because I got a stain on the pant leg and I tried getting it out, but even oxyclean didn't work, so I'm just gunna cut above the stain so the pants are still usable.
Get a pencil and mark where you want to cut. Do this while you are wearing the pants so you will know how the pants will look on you once they're cut. Make the lines on both sides even and mark the inside seams too. If you're unsure of how short to cut them, go longer than you want so you can shorten it later, cuz you're better safe than sorry!
Get some scissors that can cut through fabric, mine were from Walmart, and cut a little slit on one side of the shorts, at the place you marked with the pencil. Cut the front part of the pants to the inseam. Do the same thing on the other side.
Now flip the pants over and cut to the marked line. I cut the back side a little longer than the front because I've seen a lot of jean shorts that have longer backs.
Fold the pants over and match up the two sides, then cut the same shape on the other half of the pants. This ensures that the sides will be even. This is what your shorts should look like.
Now it's time for the fun part. Get a box cutter or utility knife like this one, and use it to fray the edges of the shorts. If you do a back and forth motion it makes some stray strands pop out and roughens up the edges. It gives the nice frayed look which is what distressed shorts are all about!
Do this all along the edges of the pants. Be careful when using the knife near your fingers cuz it's super sharp and dangerous. If you're younger, you might want to get a parent to help you. Now stab it, drag it, pull it, rip it, whatever you want to do the the edges, just make them look jaggedy.
This is what it looks like after I tore apart the edges of the shorts. Pretty good huh? It's a lot different than the other side, so it's time to destroy that one too. Get out your knife and have fun! This process did take a little while, so be patient. It takes even longer to distress the body of the shorts!
The first part I'm pulling apart is the side. This was the second flaw in my pants so I'm getting rid of it by making a slit above and below it. Then, get a pin or a tack and use it to individually pull out the horizontal threads. When you find a string that doesn't fall out when you pull, gently pull it down keeping it attached on both sides, then keep going all the way up through the middle piece of fabric.
Eventually you will get to the point when you're almost done and the vertical strings come out easily, so you can just pull those out instead of pulling the horizontal ones down. It's much quicker.
Now you want to fray the edges of the slits above and below the shredded part. Now it's nice and destroyed!
Now we're shredding over the pocket, so pull that out through the top so you don't accidentally cut it. Now cut three slits over the pocket area with your scissors. Do the same thing to this area that you just did to the side of the shorts. I also did this to the other side but with only two slits. This takes a very long time if you do it right, so be patient.
Now your distressed shorts are finished! These are what they look like on. I like how one side is super distressed, and the other side is less, so they're not symmetrical. We're going for a messy look so I didn't want the sides to have the same amount of distress.
Overall, I'm really happy with how they turned out, and I'm glad I chose this pair of pants to alter. If you guys try this out on your pants, tweet me a picture so I can see your creation! Thanks for watching, and don't forget to subscribe if you like my videos! My blog link is down below if you want to check it out, and I'll see you in my next video! Bye!

Thanks for stopping by! Please subscribe to my blog if you like it! xoxo Amber C Johnson from Super Beauty Guru <3