Hey everyone! Today I'm going to show you how to create a colorful leopard print nail look.
This nail look is great for whenever you want to jazz up your nails but you don't have much time. This look is also very simple, so if you don't have great nail designing skills, you could easily do this design. It only takes a few minutes to achieve this look, so it's a great look to do in a pinch! The colors are great for any season, everyone loves color in spring and summer, and everyone needs color in fall and winter when most things turn gray. The video tutorial for these nails is super short and to the point. It really doesn't take much time at all to do these nails, so I hope you try them out!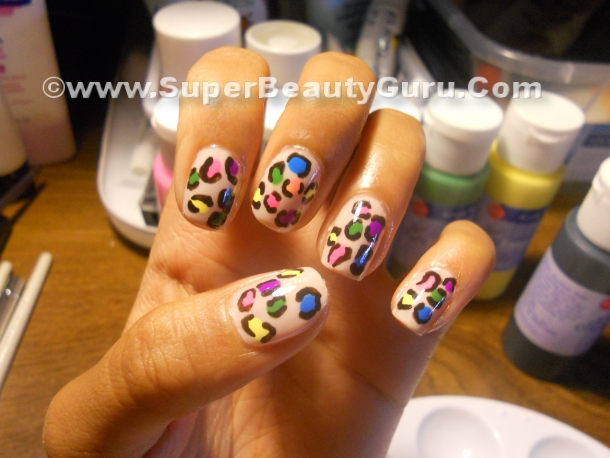 Here are all the Steps and Products I used:

If you cannot view the above video, click here for the tutorial on this look: Colorful Leopard Print Nail Tutorial: How to paint a leopard print manicure
Subscribe to my Fashion and Beauty YouTube Channel!
Steps
1) Apply a base coat to protect your nails.

2) Paint your nails with a light pink pale colored nail polish, or with any other pale polish of your preference.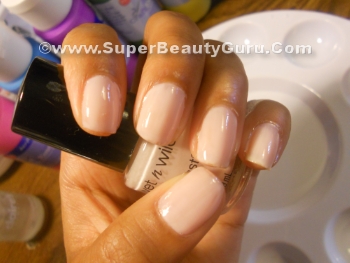 3) Add bright colors in lumpy oval shapes. You can use nail polish or acrylic paint for this step. I used acrylic paint with a dotting tool to do this step, but if you don't have these, you can use any colorful nail lacquer and a toothpick. It's easy if you pour out little globs of each color on a nail polish mixing tray/palette.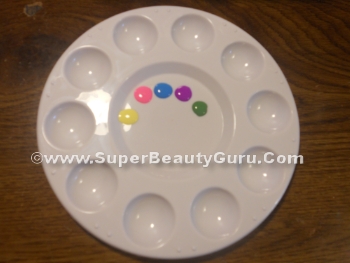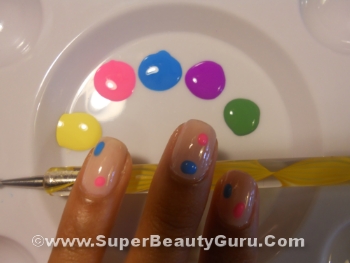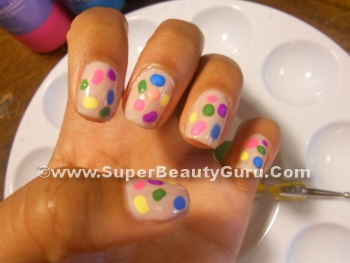 4) Outline these shapes with black. You can do circular shapes, C shapes, or any squiggly outline with missing gaps. Don't outline them all the same, and change it up a bit so the design isn't too perfect looking, and so it looks more natural (even though we all know leopards aren't colorful).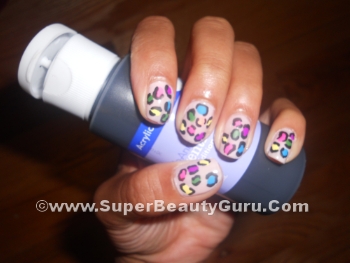 5) Now you are finished with the design and just need to add a topcoat!
Products Used
-Claire's Top Coat – Clear
-Wet n' wild – pink
-Acrylic paint from JoAnne's Fabric Store – multiple colors
Nail Gallery
These leopard print nails turned out great and they only took a few minutes. This is a great way to incorporate an animal print into your life without over doing it, and adding color at the same time. I like to wear colorful designs on my finger nails so I loved this one. The great thing about this look is that you can also use household objects to do the designs if you don't have the proper nail art tools. For example, to do the colorful ovals you can always use q-tips instead of a dotting tool. For the black outline you can use toothpicks instead of small nail art brushes. Stay creative! Oh, and keep in mind this is leopard print. It's not cheetah print. There's a difference!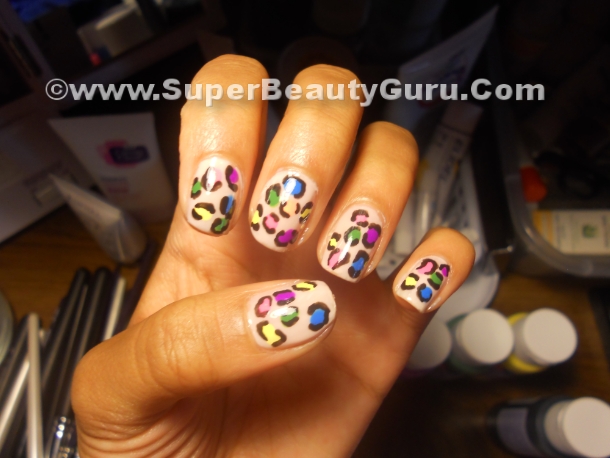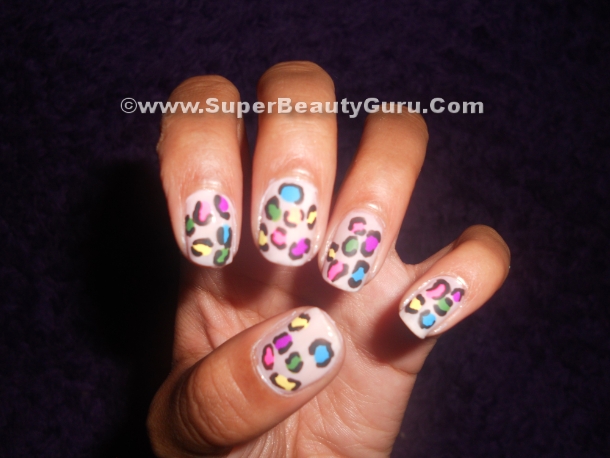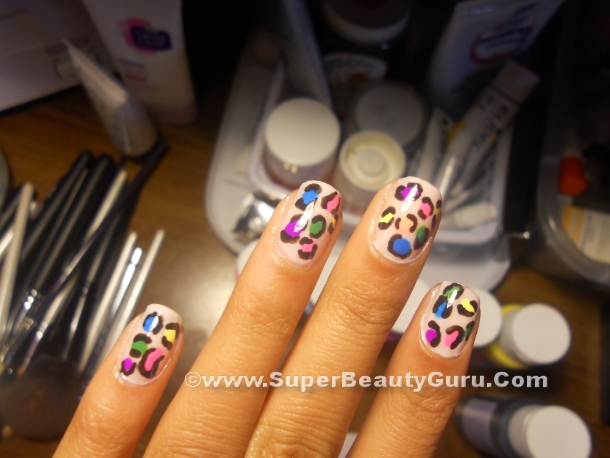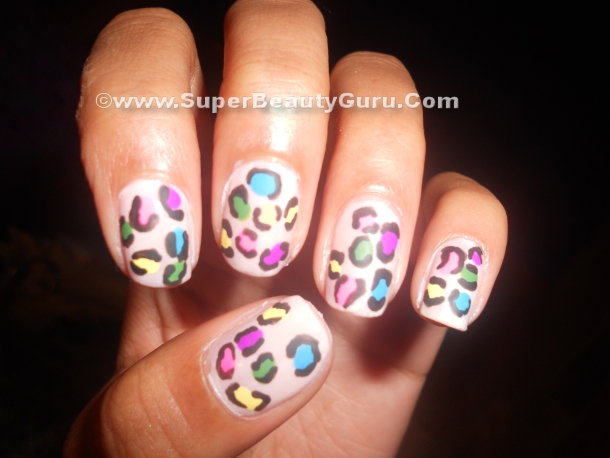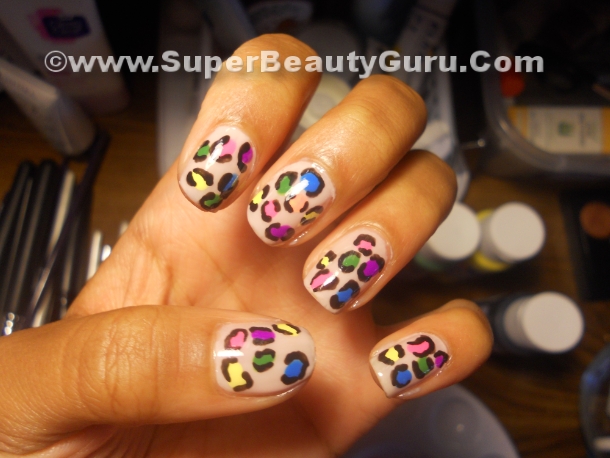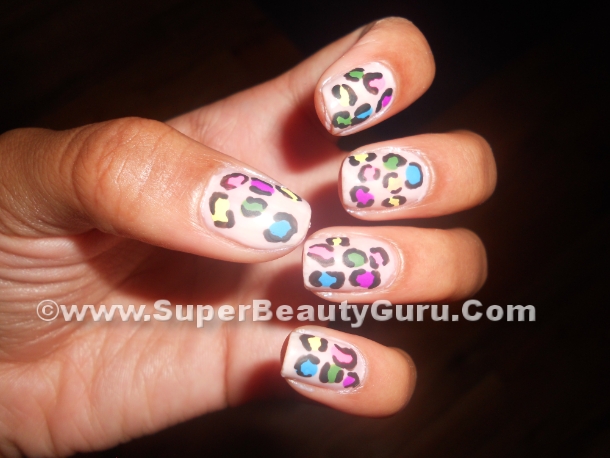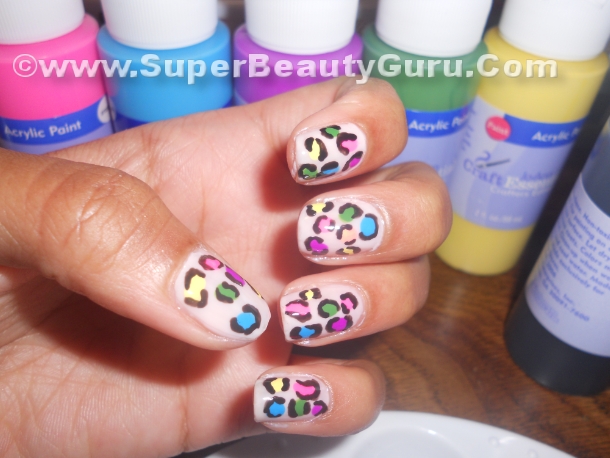 Video Transcribed:
Hey guys! Today I'm going to show you how to paint a leopard print design on your nails.
Leopard print nails are a very popular design because they're cute, and super easy to do.
First start out with a basecoat like usual to protect your nails.
Now add a pale pink, or any really light color all over your nails.
After that dries, get out a bunch of colors of either nail polish or acrylic paint, I use acrylic paint, and pour little dot of each color out on a tray or paper.
Using a dotting too, make lumpy ovals on your nails using different colors. You don't want them to be uniform or too circular. Also, spread them out and add enough to cover the whole nail.
Now using a black paint and thin nail art brush, outline your colorful blobs with black. Completely outline some, and for some make C shapes, or leave gaps in the outline to make it more realistic.
Now you're done with your colorful leopard print nail design!
Just add a topcoat to lock in the paint and add shine. This was probably the easiest nail tutorial I've ever done, but it's really cute.
If you ever want to paint your nails, but don't have time to do one of my more complex looks, do this one! Tell me what you think about this design in the comments down below, and if you like the harder or easier designs better.
If you have a Tumblr, check out mine, the link will be down below, because I've been spending way too much time on there this summer and am always posting new stuff.
Thanks for watching, and I'll see you in my next video! Bye!

Thanks for stopping by! Please subscribe to my blog if you like it! xoxo Amber C Johnson from Super Beauty Guru <3